ASPERITY: 2018
"Join space shuttle pilot Charles Overmyer on an ASPERITY cargo mission to the International Space Station – an interactive VR experience."
"Asperity" is a cinematic, interactive VR experience in which you join renowned pilot Charles Overmyer aboard the Space Shuttle on an eventful cargo mission to the International Space Station!
Asperity combines a real time development environment with traditional pre-generated VFX elements, such as physics simulations and 2D composited live action footage, within the Unity Game engine. In this interactive, 360° room scale experience, the user gets to be part of the action as well, including physical user feedback in the real world to tie it all together.
Info
Director: Sebastian Ingenfeld
Genres: outer-space VR Experience
Length: 15:00 min
Release Date: May 2018
Crew
Director & Story Sebastian Ingenfeld
Producer Lena-Carolin Lohfink
Lead Technical Director Seyed Ahmad Housseini
Lead Programmer Matthias Heim
Additional Programmer Christian Greitmann
Character Animation Maike Mahira Koller
Music & Mix Jordan Toms
Sounddesign & Sound Programming Pablo Knupfer
Cast
Charles Overmyer (voice) Matt K. Baker
Charles Overmyer Stefan Ingenfeld
Marina Ivchenko / Mission Control Miranda Trnjanin
Announcer (voice) Fraser W. Deacon
ISS Crew Member (voice) Alexander Frey
Asperity Assembly Agent Denis Krez
CAPCOM Lena Beck
TOPO Josephine Roß
CATO Lukas Ritter
Character Modeling Marika Moritz
Character Modeling Alexander Frey
ISS Modeling, Texturing, Shading Philipp Maas
Prop Modeling Martin Kögel
Effects & Simulation Seyed Ahmad Houssini
Interface Design Simone Pivetta
Texturing & Shading Sebastian Ingenfeld
Digital Compositing Denis Krez
Realtime Lighting Matthias Heim
Character Rigging Seyed Ahmad Houssini
Motion Capture Philipp Maas
Sound Support Lena Beck
Orchestra Filmorchester Babelsberg
Cinematographer Sebastian Ingenfeld
Second Assistant Camera Verena Zwaygardt
Costume Design Marika Moritz
Special Effects Costumes PropCop Effects
Make Up Artist Maria Warth
Set Manager Lukas August Ritter
Editing Sebastian Ingenfeld
Grading Robin Jünkersfeld
Graphic Design Maike Mahira Koller
3D Print Alexander Frey
SPONSORING by
Blue Ripple Sound Sennheiser Mikrofone
Audio Ease Schoeps Mikrofone
Avid VisiSonics
FOOTAGE provided by
NASA
shutterstock.com
Artbeats
Executive Producer Filmakademie Baden-Württemberg
Links
INSIGHTS INTO THE PROJECT
ASPERITY TECHNOLOGIES CORPORATION
This is Asperity Technologies Corporation, the VR-Experience and a Making Of of this amazing journey. So please enjoy.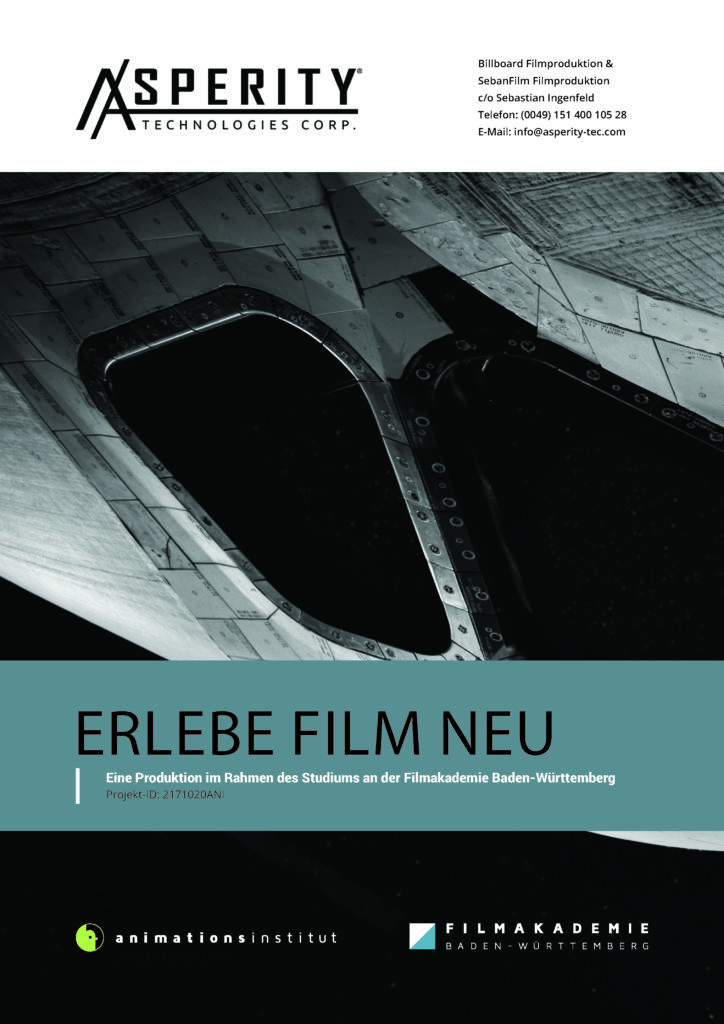 Related Posts